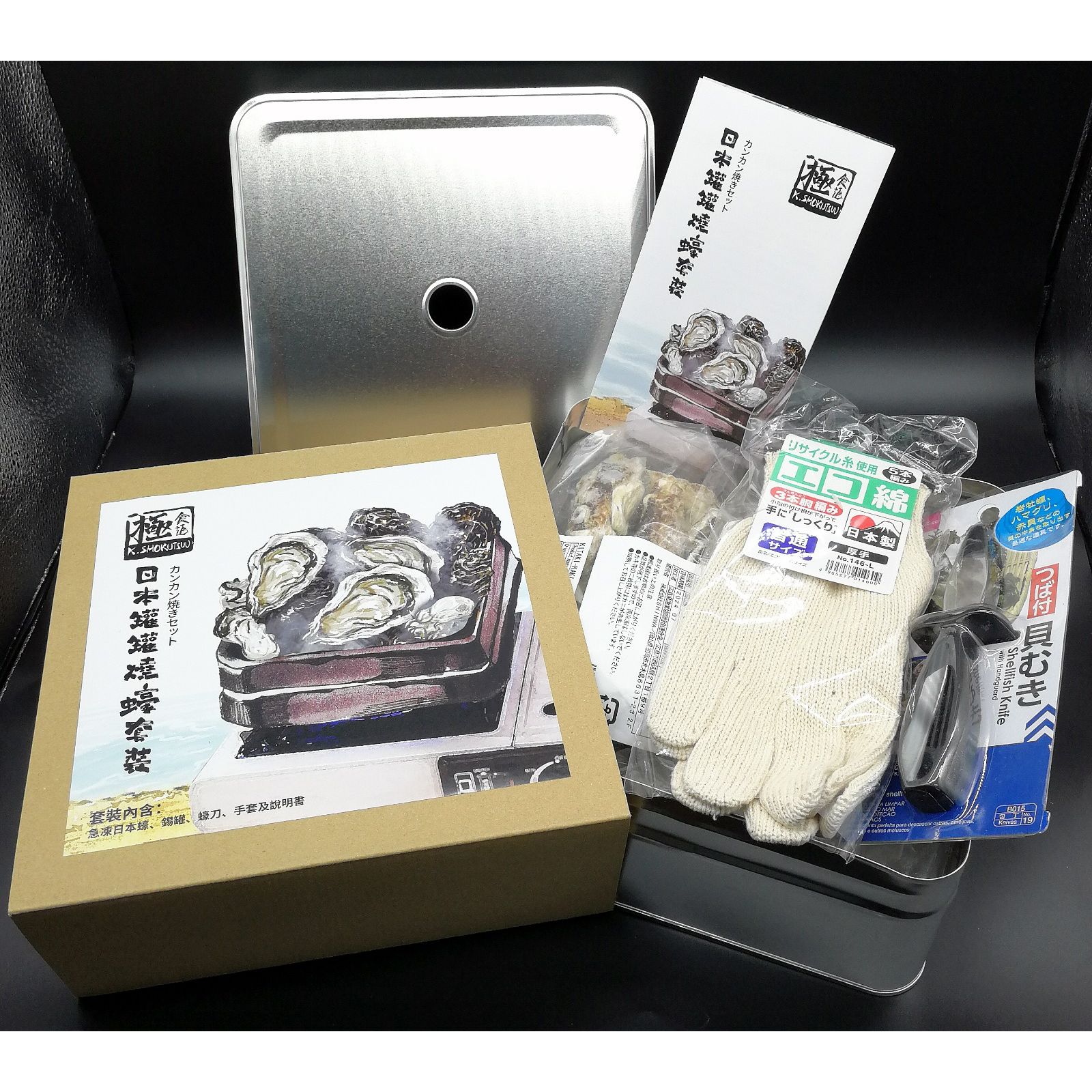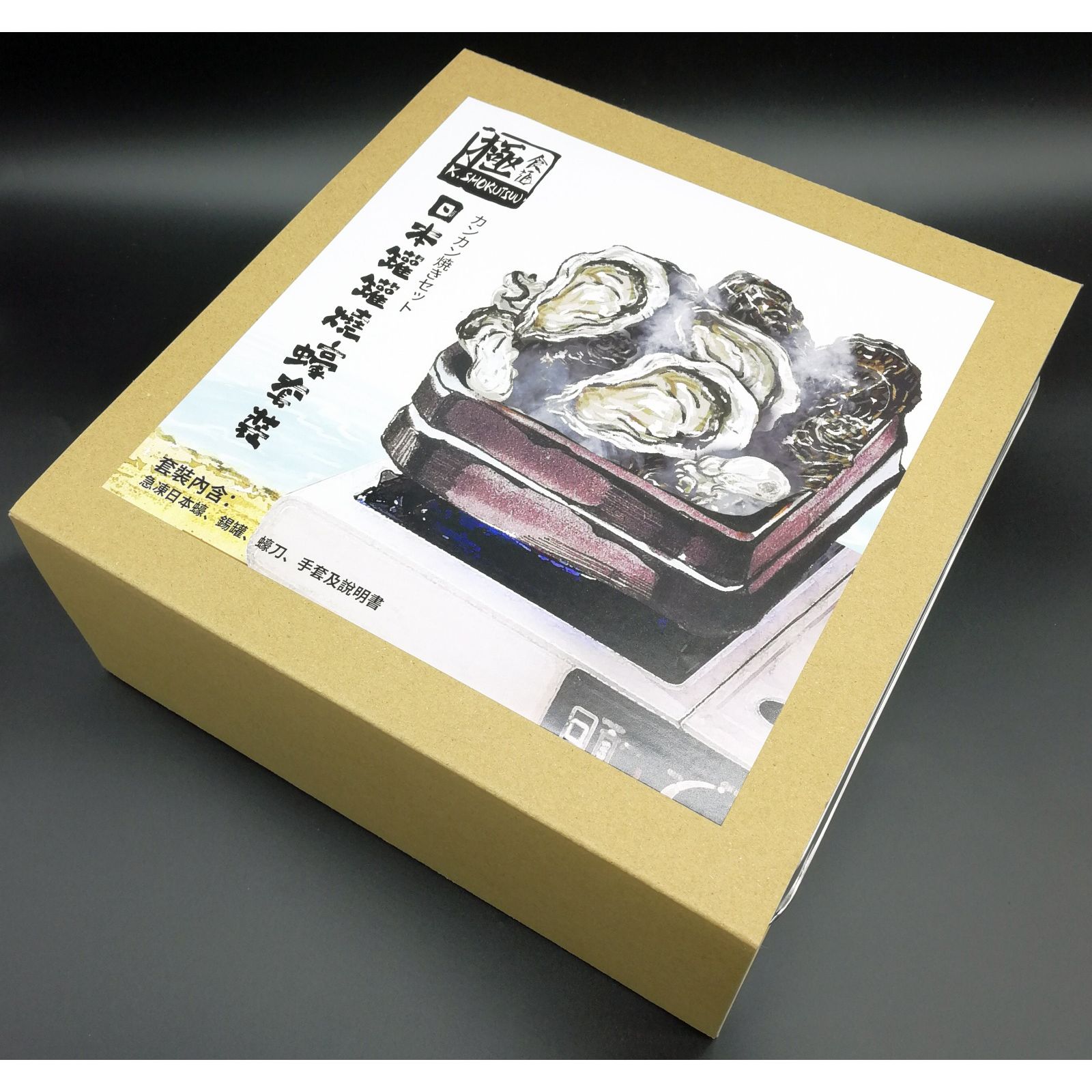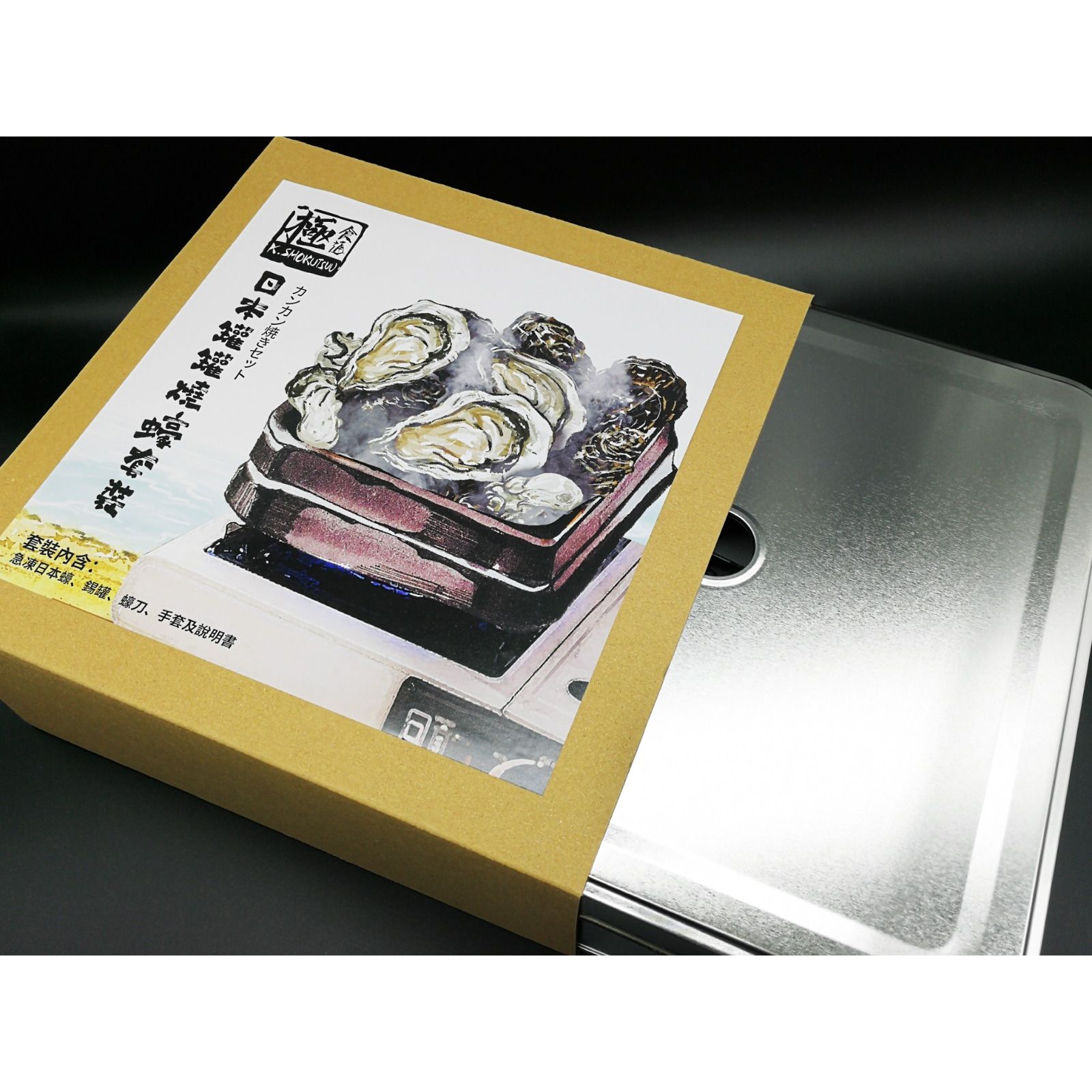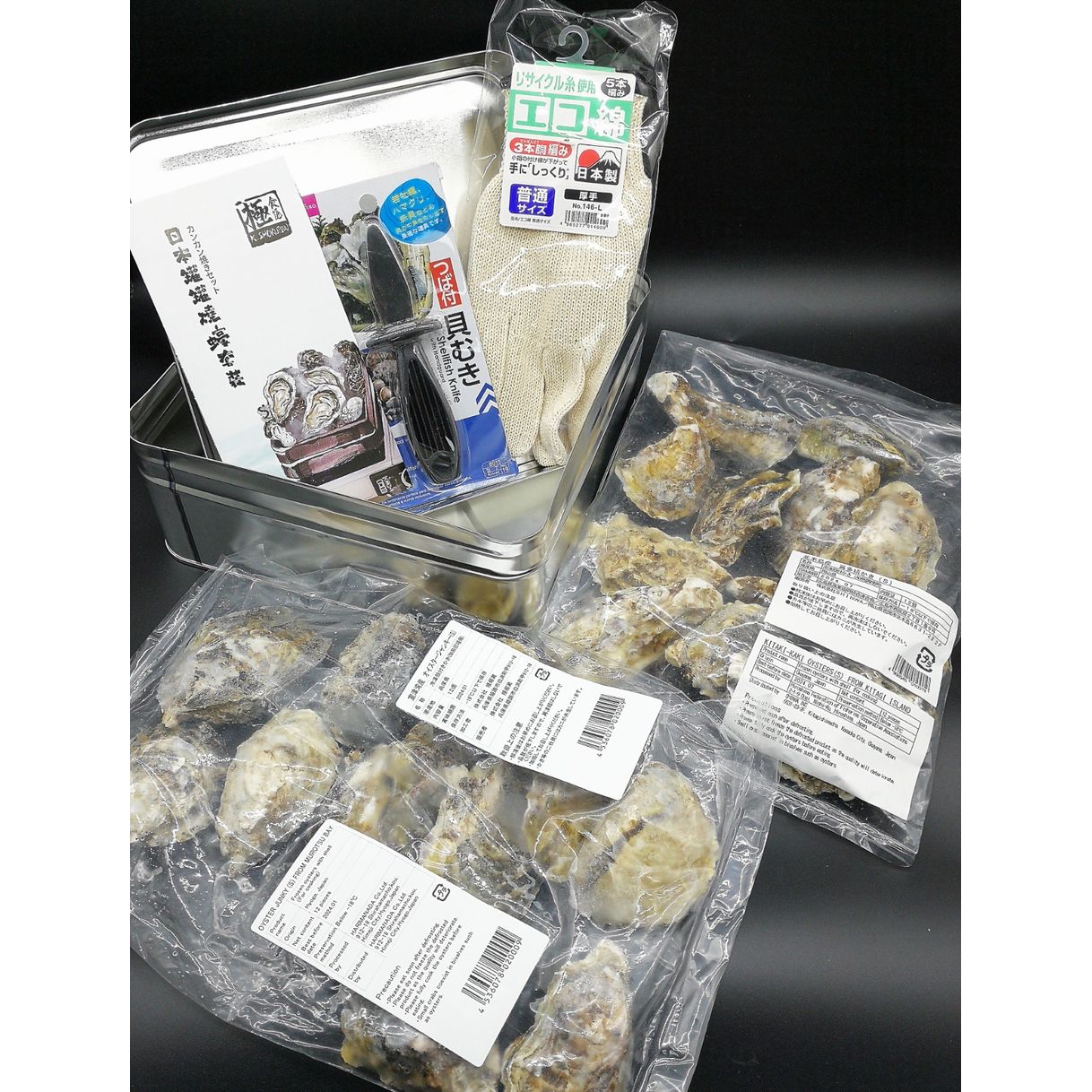 🦪極食通罐罐燒蠔套裝🦪
!食用前請小心閱讀!
本產品選用日本兵庫縣産急凍養殖1年的蠔。
本店旨在提供安全而且高品質的罐罐燒蠔。為避免因為加熱不足而導致的食用風險,本店使用擁有養殖生蠔許可的養殖場的生蠔並經過殺菌處理。
我們的生產商會定期到養殖場水域進行細菌檢查如大腸桿菌,副溶血弧菌,諾如病毒等。我們選用的蠔都是得到生食用許可。
#注意:
本店出售的蠔都必需加熱食用(罐罐燒蠔)。
請避免生食此產品。
產品在解凍後請儘快食用。請不要再解凍後重新再冷凍,這會影響產品的質素。
蝦和蟹可能於貝殼類動物中生存。請於食用前將其取出。
產品內容:
日本原裝錫罐 *1
日本厚純棉手套*1
連護手柄開蠔刀*1
急凍日本連殼蠔2包: 兵庫縣産 (12隻*2包)

兵庫縣産播磨灘連殼蠔
播州赤穗的蠔在著名水域之一的清流"千草川"中養殖。
生產者不會不必要地增加養殖數量,所以蠔可以在穩定和良好的海況下養殖。
這就是為什麼兵庫縣播磨灘的蠔美味的原因。
在播州赤穗播磨灘收穫的新鮮帶殼蠔充滿潮味,口感豐滿。

#使用錫罐和開蠔刀前,請先用清潔液清洗
#產品內的用具皆屬於高品質,使用後把鹽分沖洗乾淨後吹乾即可重複使用
#錫罐如果在家用瓦斯爐上加熱,錫罐即可重複使用。請注意如果錫罐在炭火加熱後則不能再重複使用
保存方法:
袋內的蠔必須在-18℃下急凍 (請於30日內食用)
建議解凍方法 (S Size)
1. 將約6至12隻蠔放入罐中,用流水沖洗20至30分鐘解凍
2. 如果擔心蠔的鹽分含量,建議用流水沖洗30至40分鐘解凍
建議食用方法 (S Size)
1. 將約6至12隻蠔放入罐中,並加入60cc到120cc的水。我們亦建議用日本酒,請使用100cc日本酒加100cc水於罐中
2. 用大火加熱2分鐘(或至水滾)。水開始煮滾後轉中火再加熱2至3分鐘
#注意事項
請小心割傷和燒傷
加熱後的錫罐和蠔都非常熱,請戴上本套裝內的手套,提防燒傷
蠔殼的邊緣都十分鋒利,請提防割傷

🦪K.Shokutsuu Kankanyaki Oyster Set🦪
Oyster:Frozen 1-year-old oyster with shell. From Hyogo prefecture.
At our shop, we aim to provide safe and high-quality oysters. Considering risks such as insufficient heating, we use oysters farmed in raw consumption permitted water areas and sterilized carefully.
Our manufacturers conduct regular water inspection, viable cell count, and tests to inspect for Escherichia coli, Vibrio parahaemolyticus, and norovirus. The oysters are approved for raw delivery.
Consume the oysters soon after defrosting. Please do not freeze the defrosted oysters as the quality will deteriorate.
Shrimps and crabs may coexist in bivalves such as oysters. Please remove them before eating.
Warning:
The oysters sold at our shop must be cooked before eating (for KANKAN YAKI). Please refrain from eating the oysters raw.
Accessories:
1. Japan original tin container *1
2. Japan eco-friendly thick pure cotton gloves *1
3. Shellfish Knife with Handguard *1
4. Frozen Japan oysters with shells*2:Hyogo prefecture (12 Pieces 2Pack)
# Please wash the tin container and Shellfish Knife with dishwashing detergent before first use.
# As the accessories are made from high-quality materials, please wash them and ensure that any salt is removed. They can be reused multiple times with high maintenance.
# The tin container can be reused if heated with a household gas stove. It may not be reused if heated with charcoal fire.
Preservation method:
Oysters in bags should be stored below -18℃. (Please consume oysters within 30 days)
Store the tin container, gloves, and Shellfish Knife at room temperature.
Recommended defrosting method (S Size):
Transfer the oysters to the tin container (6-12 oysters at once) and run tap water for 20-30 minutes to defrost the oysters.
If you are concerned about the salt content, running water for longer (30-40 minutes) is recommended.
If the oysters are heated with insufficient defrosting, they may shrink when heated.
Recommended cooking method (S Size):
1) Place 6-12 defrosted oysters in the tin container and pour 60cc to 120cc of water. Using Japanese sake instead of water is also recommended. In this case, pour 100cc of sake and 100cc of water into the tin container.
2) Heat on high heat for 2 minutes (or until the water boils). After the water boils, heat on medium heat for another 2-3 minutes.
3) Optional: Please enjoy the oysters with Morita organic Ponzu sauce, raw kanzuri both sold at our store, or lemon juice.
#Warning:
Be careful of burns and cuts.
As oysters and the tin container after being heated are extremely hot, please wear the gloves included in this set. As the edges of the oyster shells are sharp, please be careful of cuts.

当店は賞味期限が1か月以上残っている商品のみを販売しております。
何かお気づきの点、ご質問等ございましたら、
jp-info@goldenfellow.com
までお問い合わせください。(日本語、英語)